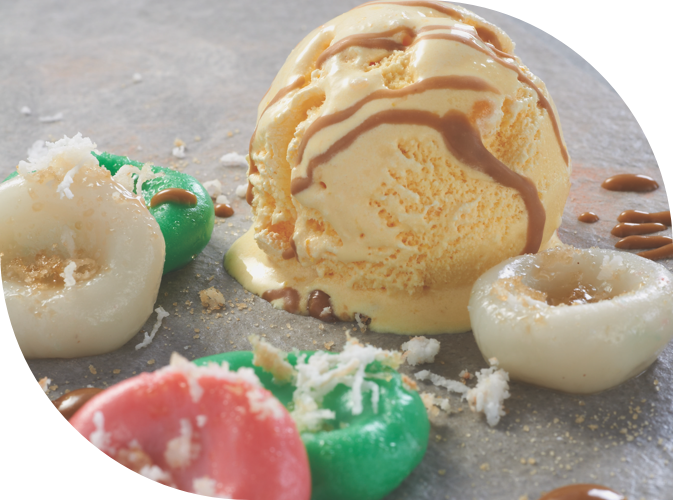 Glutinous Rice with King's Sweetcorn ice cream
Preparation time: 2 hours
Ingredients
The Dough
• 1 packet of Glutinous Rice Flour
• 2 ½ cups of water
• A bit of edible food colouring
The Sauce
• 6 tablespoon of palm sugar
• 1 tablespoon of vanilla essence/ fresh pandan leaves
• 1 cup of coconut milk
• 1 cup of King's Sweetcorn ice cream
• Pinch of Salt
The Topping
• ½ cup of Granted coconut
• 1 tablespoon of brown sugar
• Pinch of Salt
Preparation
1
For the dough, pour in glutinous rice flour and water into a large bowl. Stir the mixture until well combined, then start kneading it until the dough turns smooth and elastic.
2
Divide the dough into 3 containers and add different edible colouring to each containers respectively.
3
Pinch off a little dough and roll it into small balls. Make a hole in the middle using your thumb.
4
Fill a pot with water until is half full and place the glutinous rice balls into the water and wait for it to boil. Once the balls float up, dish them out and drain it over a paper towel.
5
For the sauce, pour in some palm sugar and water into another pot. Boil it until the palm sugar melts, then add in coconut milk and King's Sweetcorn ice cream with a pinch of salt. Constantly stir the gravy to prevent coconut milk from curdling.
6
Place the glutinous balls on serving plate, pour over the sauce, sprinkle some granted coconut on top and it is ready to be served.